Screening Plants and Shrubs
non native
[ Back ] [ Home ] [ Next ] [ Plant Descriptions ] [ Terms and Conditions ] [ General Information ] [ Current List ]
This page lists some plants that can be used as screening plants that are NOT lillipillies. Radermachera, Phyllanthus, Camellia, Ixora, Metrosideros are just some of the plants that can be used successfully. If you are interested in lillipillies please visit http://www.aspleynursery.com.au/lillipilly.htm
Camellia Graptophyllum excelsium Graptophyllum ilicifolium Heliconia Gold Torch Murraya paniculata Smart Choice Metrosideros Little Dugald Metrosoides Thomasi Metrosideros Fiji Photinia Phyllanthus cuscutiflorus Polyscias guilfoylei Radermachera Summerscent Syzygium Cherry Surprise Viburnum tinus
Camellia sasanqua are one of the hardiest and most colourful screen plants available. They are drought tolerant and are fast growing once they reach about 1m. I would recommend that the new flush of growth is lightly pruned so that the plant creates a dense habit and has more flowers. Each flower only lasts one day but there are so many flowers that the shrub is only enhanced by the carpet of petals. They like an acid well drained soil and will grow happily in sun or shade. I would recommend a spacing of 600mm to create a dense screen quickly.

Pure Silk

A Hardy shrub grows in full sun or semi shade. Semi Formal double white flowers fading to pink edges.


Alison Spragg

Suitable to full sun or semi-shaded position growing in an upright direction producing Rose pink semi-double flowers.

Setsugekka

Will grow in full sun or semi shade with large single white flowers with fluted petals.

Sparkling Burgundy

Vigorous upright growing evergreen shrub preferring well lit position with rose pink flowers.

Jennifer Susan

Fast, upright growth. Excellent as specimen or for hedge.
Flowering mid-March to mid-June producing flesh pink flowers.
Graptophyllum excelsium is a slow growing shrub from 1.5-4 metres, it has dark green, small leaves that will be darker in semi shade and lighter in full sun. The flowers are dark red and tubular and can smoother the plant in late spring and summer. They don't mind pruning and will form a dense shrub if pruned regularly. It is a native to Queensland.
Graptophyllum ilicifolium is a native to Queensland and is commonly known as the Holly Fuchsia. The common name stems from the deep green holly shaped leaves and the deep red tubular flowers that appear in late spring to early summer. It will grow from 3-5 metres depending on conditions but can be pruned to encourage thick screening foliage. In shade the leaf is a glossy dark red, in sun the leaf is still glossy but is a lighter green the flowers in the photo below are on an older plant that has run out of fertilser, hence the yellow foliage.
Heliconia is one of the signature plants for tropical gardens in Queensland and probably one of the toughest is Heliconia Gold Torch. It will grow in full sun or semi shade and will flower with glorious gold upright flowers from spring till late summer. It does not die down in winter. Growing about 1.2m the large leaves and golden flowers fit perfectly onto a tropical landscape
This is one of the new "New Zealand Christmas Trees" that have become available in 2010. Metrosideros Little Dugald is a free flowering shrub that will quickly grow to 2m and slowly grow from there. It is a naturally bushy plant that flower very early in it's life, we have had them flowering in 140mm pots. The foliage is a deep glossy green while the new growth is light, bright and glossy. I have grown it in full sun and semi shade in some quite harsh areas and they have thrived. The luminous flowers make tis a standout plant and the fact that it does not seem to suffer from soot as other plants of this family do is a bonus.
One of the most popular plants for years , Metrosideros Thomasi has been used in commercial designs especially seaside resorts. It's reliability and it's flexibility of use makes it a must on the plant palette. It can be pruned into formal hedges or allowed to be used as part of an informal screening garden. It flowers heavily when quite small and the new growth has a silvery appearance that fades down into a grey green foliage
One of the best feature of Metrosideros Fiji is the brilliant red new growth, as it ages it fades to a glossy red highlighted leaf. It's flowers are very similar to Metrosideros thomasii but are not as numerous and only appear as the plant ages. It loves dry full sun positions and shares the hardiness of the other varieties. They do need pruning to create a dense plant.
Murraya paniculata "Smart Choice" is a selected, sterile, non seeding clone that has outstanding growing qualities and are guaranteed to be grown from reliable non seeding parents plants. None of our plants are produced from seed, all of our production is produced in our own propagation section for exclusive use in our production program. The original plants from which we propagate came from Smart's nursery who selected this variety as the best available. This is such a versatile plant as can be seen below where it has been clipped into a 500mm hedge and a 1.8m hedge. It is very suitable for median planting where it can handle the pollution create a light barrier and yet not cause a collision hazard. There is a dwarf form called Murraya Min A Min.
Polyscias guilfoylei varigated is a very versatile plant that loves our subtropical climate. It is an upright tall shrub with a very narrow growth habit. The leaves are broad and deep green with a variable cream variegation. The benefit of this plant is the narrow upright habit allows it to be planted in those narrow canyons between houses and units where a plant needs to be tall to screen but can only grow about 1m metre wide so as to allow passing traffic. Polyscias ticks all these boxes and if pruned lightly when first planted will maintain leaf to the ground in sun or shade.
The plants in the photos below are in our nursery and are used for screening our Cordyline houses. There are several other varieties available with variegation variations and a plain dark green form as well but these are of limited availability. We supply these in 200mm containers.
Though more commonly grown in the southern states this is still a fine plant for hedging in Queensland. During winter the leaves turn fire engine red and the foliage is a counterpoint of deep green. It does need regular pruning to improve density but more than makes up for this with disease resistance and overall hardiness. The hedge in this photo is less than one year old and was planted from 300mm pots.
Radermachera Summerscent TM is one of the best small screening plants to become available in years. It will grow to about 3m in sunny positions creating a dense screen. It's foliage is deep green and highlights the clusters of pink flowers that smother the plant. In the nursery it seems to be never without a flower though the main flowering is during spring and summer. The center photo is of a plant in our production nursery that has been pruned as a display. It has been flowering for the last 3months.

I have seen these grown as trunked trees but to do so you need to stake them in early growth to create the correct habit. I believe these are best used as screening plants away from paving and structure as I have seen that as they age they can develop a substantial rootsystem.
as a pot specimen
an effective hedge
flower
Viburnum tinus is a large shrub that has been used in South easy Queensland for decades. It has deep green stiff foliage that is useful for hedges and is kept to the ground. In late winter the plant produces masses of flower heads consisting of rich red buds followed by pure white flowers. Viburnum tinus loves well drained soil in full sun but it will tolerate bright shade, it is quite fast growing and is well matched with Gardenia, Camellias, Murraya and other formal style plants.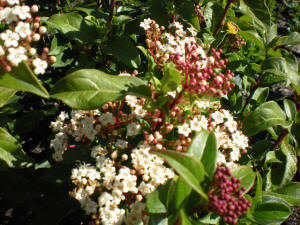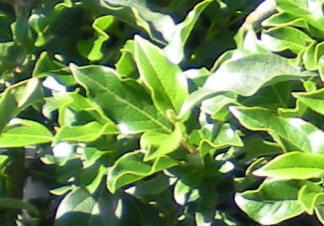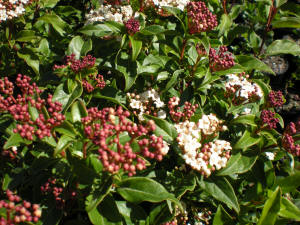 02/05/2019